13 subjects make the QS World University Rankings by Subject 2022. Ca' Foscari rises to 36th worldwide in Classics and Ancient History and confirms its position for Modern Languages (61st worldwide).
How has the pandemic affected the European system of governance? What role have European cities played in facing this health crisis and its social and economic effects? We have interviewed Stefano Soriani, an expert in economic and political geography and co-organiser of the Multi-level governance in Europe: the case of Covid-19 pandemics international conference.
A new mathematical model can predict global changes in commercial and financial exchange. The research has been published in the Journal of Business and Economic Statistics.
The lines and numbers identifying the sea levels that could be reached in the next few decades are once again visible on the wall of the train station which faces the Grand Canal and Piazzale Roma in Venice. They were painted by Andreco five years ago and are the first mural on the Grand Canal. Next to it there is a six-metre-high installation on the resilience of the lagoon's fragile ecosystem.
Ca' Foscari continues to fund excellence in research with the Supporting Principal Investigators (SPIN). The scope of the call is to receive proposals from outstanding talents to fund research projects with a maximum duration of 24 months in all scientific areas available at Ca' Foscari. The call is open until 14 June 2022.
Scientists now have a sample of deep ice from the southernmost glacier in Europe and only glacier in the Apennines. The chemical analysis will allow them to reconstruct the past and environmental climate of the massif and of the surrounding regions.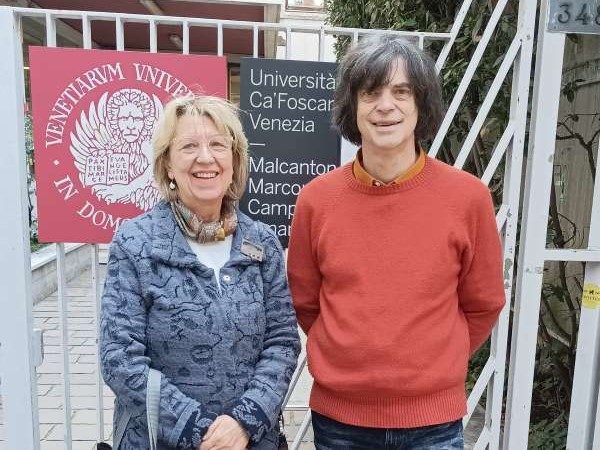 The Department of Humanties has hosted Pierre Bonnechere, professor of Greek history at Université de Montréal, as part of the Erasmus+ ICM programme between Venice and Canada, which is coordinated by professor Claudia Antonetti. Here's an interview with the professors.
Following the outbreak of the war in Ukraine, Ca' Foscari has become involved in initiatives to support the Ukrainian population. In addition to allocating 50,000 euro to welcoming students, researchers and professors, the university is offering free Italian language courses, laboratories for children and teenagers, and cultural activities.
Until 30 September, all members of the Ca' Foscari community (students, teaching staff, technical-administrative staff) are entitled to a 10% discount on all products in Ca' Foscari Shop. Show your university ID card (Carta Conto) to make the most of this special offer.
On 12 May at 11:00, Ca' Foscari hosted a performance by artist Sarah Revoltella, with the aim to promote disarmament and to discourage gun culture. ESU and about 10 students collaborated on the performance.