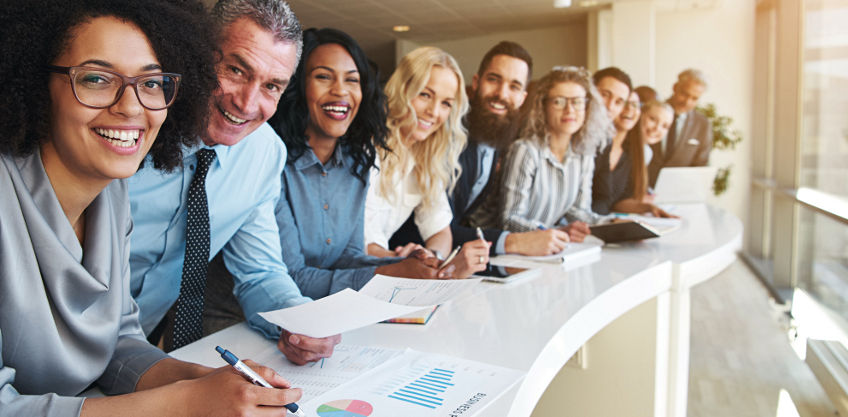 The Ca' Foscari Challenge School offers a solid range of training choices and a faculty with international lecturers and consultants, a network of prestigious partners and the multidisciplinary approach of the courses on offer.
Courses in Venice

In the face of competition at global level and the challenges of digital innovation today's enterprises are being forced to rethink their business approach. Both enterprises and professionals are beginning to explore foreign markets, equip themselves with an adequate organizational structure, develop medium- and long-term strategies based on training in the following sectors: digital, internationalization, communication and marketing, organization and management of human resources and soft skills.
The Challenge School gives companies the possibility of taking part in business visits while flanked by consultants and experts and participating in experiences developing cross-disciplinary skills, all of which are effective tools in mapping the various development opportunities open to them.

Our society has been completely transformed by a digital revolution offering us more functional, more effective tools and reducing our workloads by streamlining processes. At the same time, these changes demand a sound training and competences in the digital technologies and in the forms of digital expression available as well as in the methods required.
Familiarity with channels of digitalization, big data and open data all belong to the pool of innovation skills within companies and help create links between the different competence levels resulting from the generation gap.
The Challenge School's courses aim to tackle the salient topics of a programme of innovative development meeting the latest demands of the Digital Agendas of global governance.
The corporate functions in the areas of finance and control, tax systems and legality play a key role in decision-making processes. In fact, they have access to information that is vital for the definition of informed and successful strategies.
These types of positions not only require a solid base of technical and specialist know-how but also a series of managerial tools and competences necessary to interpret data, formulate solutions and provide answers to daily challenges.
The study paths on offer are designed for professionals working in corporate, consulting or banking environments who wish to consolidate and expand their professional skills in order to become goal-oriented managers.

Safeguarding the land and environment and guaranteeing safety is not only of strategic importance for today's generations also plays a key role for future generations
Investing in innovative courses updating and training experts in health and safety at work allows companies to tackle emergency situations systemically, effectively and efficiently.
Our training offer is designed to update participants on themes linked to environment and safety reflecting the latest national and international legislation in these areas. The aim is to foster an awareness and critical sensitivity about themes concerned with ensuring the equilibrium and protection of the ecosystem in order to move from an economy based on "profit" and "wealth-owning" to an economy of "wellbeing".

The important changes that have taken place in the health and social sectors and in the public administration have made promoting professional growth and exchanging good practices among operators in these sectors even more pressing. The aim is to offer shared instruments and integrated services within a network of public administrations. Managers and operators are required to update their know-how and competences in legislative, technological and instrumental fields by means of training that keeps step with the constant flow of requests demanding replies.
Continuous training is designed for professionals who are called upon to give increasingly effective and efficient responses both in their professional spheres and with regard to the community at large: our aim is to support them in this growth process, helping them to consolidate both hard and soft skills.

Schools attain excellence when the professionals working in them – lecturers, managers, employees – participate in a process of updating that adopts new forms and languages adapting both to personal changes and to the transformations affecting relations within society overall. The Challenge School has developed a training offer focussing on innovative tools and methods in line with the policies and general orientation of education, learning and personal development.
The courses proposed offer a wide range of competences including how to involve and manage students with special educational needs, how to develop personal learning plans, differentiated learning approaches, how to create tools promoting inclusion, communication and listening, and management of multicultural classes.
Our aim is to train and update the school community and to support its members in learning to manage change and play a more active role.
Courses in Portogruaro

The Ca' Foscari Challenge School project hosted by the Portogruaro campus will enrich this lively, active local area with its marked entrepreneurial vocation. We have created outstanding training courses designed for both enterprises and young people. We are dedicated to ensuring that the roles and competences acquired meet today's employment needs and to promoting personal skills and talent in a complex global context in a constant state of flux.
Innovation, quality and excellence in the creation of new or updated professional figures and awareness of cultural and economic dynamics make the Ca' Foscari Challenge School the ideal partner in tackling the challenges posed by training today.
Funded training opportunities
Our belief that every company should have the opportunity to exploit the possibilities offered at European, national and regional level has led us to work alongside companies as part of an ongoing search for funded training opportunities. In fact, local economic development requires innovation at the level of the local corporate fabric. And there is no innovation without training and education.
European Social Fund (ESF)
This European Fund, disbursed by the regions, contributes to the improvement of entrepreneurial competences thus improving employment prospects. Companies participating in the ESF projects proposed by the Ca' Foscari Challenge School have the opportunity to take part in courses, seminars, experience-based training, study visits, funded consultation (fee-free).
Fondazione Università Ca' Foscari is accredited by the Regione Veneto for continuous training.
Fondimpresa
An interprofessional fund that allows participating companies to benefit from funded training initiatives. Companies taking part can organize their own courses through their training accounts or participate in projects on system notification.
Fondazione Università Ca' Foscari is accredited by Fondimpresa.